Why So Many Black Women (Including Me) Are Giving Weaves A Second Chance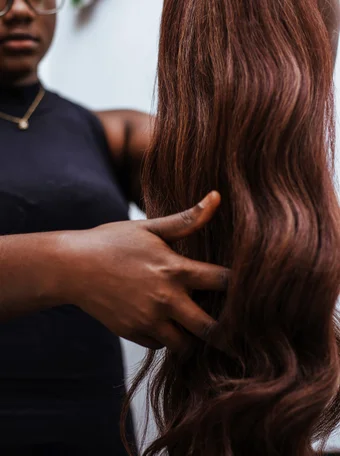 PHOTO: GETTY IMAGES.
Growing up in the 2010s, long before lace front wigs ruled the Black hair world, a sew-in weave — hair extensions perfectly melded to your hair — was the height of maturity and forward-thinking style. Popularised by R&B stars of the noughties like Jamelia, Ciara and Rihanna and installed by Black hairdressers globally, the weave was the failsafe technique to add hair length, body and volume.
At its core, a sew-in weave is comprised of numerous tracks of extension hair quite literally sewn into hair that has been braided into intricate patterns. The weave's most crucial element —  and arguably the biggest damage site — is the 'leave-out', a small portion of hair usually situated at the crown of the head that would be straightened out with flat irons in order to blend into your install. However, as many Black women began to learn how to preserve their coils without the use of heat, it was this styling trick that inevitably led to a shift to wigs over weaves. Ultra-sleek hair weaves are also linked to cases of traction alopecia and other tension-related scalp issues, and the hair-extension technique soon became number one on the haircare no list.
Before I embraced my low heat, au natural hairstyle, the weave (featuring bags of Premium Too wefted human hair extensions — if you know, you know) was a fundamental style option in my hair arsenal. I had said goodbye to hair relaxer aka the 'creamy crack' at 16 and it was far from the idealised journey often lauded in natural hair circles and Instagram pages. It was 2016, during a time when the natural hair movement, spurred on a surge of YouTube tutorials, blogs like Naturally Curly and hair influencers like Nia The Light had begun to advocate for more coil-conscious hair care. Nevertheless, the choice to no longer chemically straighten my hair didn't start with the rite of passage that is the 'Big Chop' or a soul-searching moment born out of a desperate need to reconnect with my hair. Instead, in true younger sister form, I began my break from relaxers simply because my older sister had.
"Weaves are making a comeback due to many factors, like an increased awareness about edge damage from lace wigs…"
AYANDA SOARES, HOUSE OF HAIR UK
In the seven years since this unceremonious shift, my understanding of how to keep my natural hair healthy versus only aspiring for long length has evolved. However, unlike many women inducted into the natural hair club, boasting endless tips and tricks for the perfect twist-outs, my now unprocessed hair has taken one of two forms: a step and repeat between braid and wigs. It's a strict regimen rationalised by my need to 'protect' my now relaxer-free hair. Over the past few years, many advocates for protective styling and natural hair have begun to question the unrelenting pressure to be a "model" natural hair wearer. The constant politicisation of Black hair, the policing of styles in workplaces and school, the natural hair movement's focus on no heat, no chemical processing rules alongside growing criticism over its focus on looser curl patterns have left many Black women at a fatigued crossroads. Earlier this year, out of frustration, I decided to return to weaves.
According to Ayanda Soares, founder of new-gen hair extension salon, House of Hair, it seems I am far from alone in the return to the style. "Weaves are making a comeback due to many factors, like an increased awareness about edge damage from lace wigs and the overall desire to return to different form protectiveness you get from traditional weaves,"  the stylist explains, adding that "many clients made the switch due to the lack of versatility of previous weaves or because of damage issues due to tight braiding, but with newer methods its becoming easier to manage those concerns – so we've seen a huge increase of requests for weaves over the last year."
It's a revival that celebrity hairstylist Joy Matashi credits heavily to the steady innovation in the hair extension space. "Previously tape-in [extensions] were seen as something exclusive to women with straighter hair," explains Matashi, "However, now we are seeing tape-ins being installed by Black hair specialists in a range of textures."  According to Matashi, we are in a time where people are tired of the lace wigs "due to their expense and the work required." "because not blended lace is more stressful than we like to admit so it's easy to see why more and more Black women are opting for weaves," she explains.
On TikTok, with hashtags like #BlackGirlTapeIns gaining traction with 14 million views and counting, it's easy to see how fast this changing of the hair guard thanks to innovation in the hair weave space has become.
"Innovation like we've seen in the weave industry is a necessary call to action."
CELEBRITY HAIRSTYLIST JOY MATASHI
In comparison to other popular styles like braids or initial lace wig installations, Matashi says "depending on the style, a weave session should last 3-5 hours which is a refreshing alternative for many women that have felt bogged down by long wash days or complex wigs." For the coil conscious, Matashi explains that weaves also allow for space to bleach and dye hair "without it affecting your own hair."
What about when it comes to the overall health of your hair after wearing a weave? According to Matashi, aftercare looks similar to most hairstyles. "Sometimes we get distracted by how the weave looks we forget to care for our hair hidden beneath, so it's important to keep your scalp cleansed and your hair wrapped at night!" advises Matashi.
When styling your weave post-installation, the House of Hair UK founder says, "we make sure to really explain to our clients that there is a specific process to looking after the extensions."  Soares explains: "We liken the routine to any self-care routine. You can come back into the salon if you prefer a professional to do it, but it's mainly about taking your time, going through small sections at a time, preferably with a brush like the Denman brush with medium thistles because it doesn't pull on the strands and gives a smooth finish." Soares explains that at the salon "we also advise that you opt for 100% human [hair extensions] because it washes and dries easily."
"[At the salon]we offer over eight different alternative weave methods," explains Ayanda Soares."For
 Brazilian Knot Strings
 where 1x roll is typically used for a full head application to the invisible flat weft and more." Soares also stresses that for some Black women, weaves have become more than just a hairstyle. "Hair is still such an emotional thing for Black women so at the salon we also offer options like '
Crown Loss' systems
, for those who suffer from 
alopecia a
nd hair loss conditions."
Unlike their predecessors, this new generation of weave techniques has evolved like many other products designed for Black hair, which has been crucial in minimising damage with this style. On the hair extensions themselves, thanks to the emergence of textured hair extension brands like Ruka Hair, Black women are opting for new-gen weaves that effortlessly match their natural hair texture, and, as a result, they can use coil-friendly straightening options like silk presses, without having to sacrifice the seamless blend. Even more promisingly, due to the innovative nature of these new methods, Black women that choose new-gen weaves can sport styles like multiple partings, updos and more natural-looking styles. As Soares explains, "there have been massive evolutions in the weave space since I started as a stylist over 12 years ago."
But what does this weave revival mean for the 'natural hair movement'? According to celebrity hairstylist Joy Matashi, the technique's resurgence marks a crossroads in the movement. "You find that as Black women we 'stray away' from caring for our natural hair because of the perception that it's one or the other —health or the freedom to use heat, extensions and other things touted as 'damaging.'" Despite its benefits, Matashi says, "I find, even personally, that this form of restriction leads to frustration or [the decision to] chop our hair off because we feel like we need a fresh start." However, ultimately, the stylist explains that it's all about balance. "Innovation like we've seen in the weave industry is a necessary call to action. Alongside the acknowledgement that as much as we need to prioritise 'healthy' hair  with monthly check-ins with a hairdresser who keeps you accountable, [it's also important to note that] without balance, hair can feel like a burden."
Ultimately, the return of the weave, 2010's favourite hairstyle, marks the beginning of a turning point for Black women. It's about true choice —no matter the coil or curl.